Our story
Ypres Lotus Day, conceived on a terrace at the grand place of ypres. With some friends from the Belgium lotusforum in 2008, right after Pascal and Dirk finished a rally with Pascal's classic Elan +2. Several members of the forum came to Ypres to conclude with a small forum meet 'n greet. Between some beers, story's and laughs the concept was born. Dirk Kestelyn, Pascal Vasseur & Frederik Van Cauwenberghe teamed up, and turned the idea into reality.

For the first edition in 2009 we welcomed 45 cars, mostly lotusforum members. Because the hughe sucess it taste for more. Frederik offered to use his commercial- & communication skills promoting the event all round Europe, and it worked! Nowaday we welcome 125-145 participants from several countries (Belgium, UK, The Netherlands, France, …) on our annual Lotus-fest in Ypres.

Pre 2018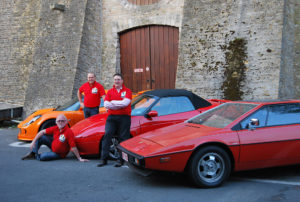 We started Ypres Lotus Day in 2009 with three key-people, Dirk, Pascal and Frederik.
Dirk made the legendary routes and roadbooks. Frederik did the graphical, communication and commercial stuff, while Pascal did an amazing job with the numbers, financial and registrations.

Post 2018
In 2018, Dirk Kestelyn sadly decided to leaved the organisation. He said he wanted to enjoy his retirement (pension). Dirk was always been 100% committed, and his part resulted in the Ypres Lotus Day success.
Beside Pascal & Frederik running the show alone now, we also appreciate and adore the help from Lindsay (Frederik's partner) & Virginie (Pascal's partner) AND our 'mobile logistics team' Andy and Willem for their hard work every year. Without them, it would never been possible!

… CU in Ypres!

2009 – Doorheen het grensgebied van de Westhoek
2010 – Doorheen de Frontstreeks van de Westhoek
2011 -> 2017
2018 – 10th aniversary

2019 – "Eigen kweek Edition"
2020 – CANCELED due COVID19
2021 – CANCELED due COVID19 (again
)
2022 – Welcome back!
2023 – Heuvelland Edition <- we are here!
2024 –
2025 – 15th anniversary!
since 2009
We organise the event since 2009. We know how's things work and always go for the best.
125+ cars
Lotus and derivatives.
same date
Ypres Lotus Day is always on the same date. Ascension day is the holy day for Lotus owners. 😉